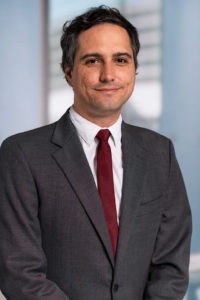 Elvin Blanco, PhD
Assistant Professor of Nanomedicine, Academic Institute
Assistant Member, Research Institute Houston Methodist
Dr. Blanco obtained his BS and MS degrees in biomedical engineering from Case Western Reserve University (CWRU). Upon completion of his BS in 2002, Dr. Blanco was the recipient of a National Institutes of Health (NIH)/National Cancer Institute (NCI) Predoctoral fellowship in the form of a Minority Supplement from the Comprehensive Minority Biomedical Branch (CMBB) to fund his predoctoral studies at CWRU. Upon completion of his MS in 2005, Dr. Blanco relocated with his advisor, Prof. Jinming Gao, to the Simmons Comprehensive Cancer Center at UT Southwestern, where he obtained his PhD in the fall of 2008. In the summer of 2009, Dr. Blanco pursued his postdoctoral studies in the Department of Nanomedicine and Biomedical Engineering at UT Health. In 2010, Dr. Blanco accepted a Research Associate position in the Department of Nanomedicine at the Houston Methodist Research Institute (HMRI), where he was promoted to Instructor in 2013 and Assistant Research Professor in 2015. In 2019, he was promoted to Assistant Professor in the Department of Nanomedicine at HMRI. Dr. Blanco holds a secondary appointment in the Department of Cardiology in the Houston Methodist DeBakey Heart & Vascular Center at the Houston Methodist Hospital (HMH) and is an Associate Research Member in the Developmental Therapeutics Program in the Houston Methodist Cancer Center at HMH. He is also an Assistant Professor in the Department of Medicine at Weill Cornell Medical College in New York.
Dr. Blanco is listed as an author on over 47 peer-reviewed articles and as an inventor on 2 patents. Dr. Blanco has consistently maintained a track record of independent funding from extramural, intramural, and foundation/philanthropic sources. He has received awards from the Society of Biomaterials (SFB) and the American Association of Cancer Research (AACR). He serves on the Editorial Board of Nanobiotechnology, part of the journal Frontiers in Bioengineering and Biotechnology, Frontiers in Materials and Frontiers in Molecular Biosciences. Lastly, Dr. Blanco is actively involved in trainee mentoring, having served as advisor to research assistants, undergraduate and graduate students, and postdoctoral fellows.
Suhong Wu, PhD
Research Associate
Haoran Liu, PhD
Postdoctoral Fellow
Hyunho Lee, PhD
Postdoctoral Fellow
Former Lab Members
Md Nafiujjaman, PhD, Postdoctoral Fellow
Currently Postdoctoral Fellow, Michigan State University
Victor Segura-Ibarra, MD/PhD student, Tecnológico de Monterrey
Currently Postdoctoral Fellow, Tecnológico de Monterrey
Francisca E. Cara, BS, Research Assistant
Currently Research Assistant, University of Granada, SP
Angela Hsiao, BS, Research Assistant
Currently Field Clinical Representative, Abbott Laboratories